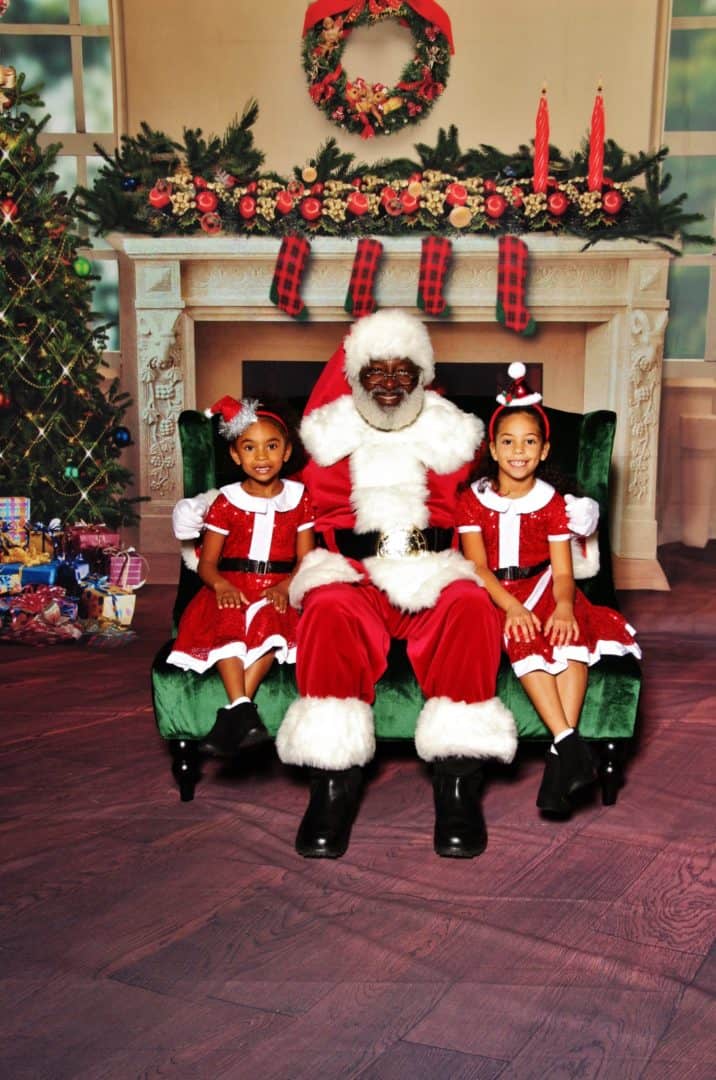 Santas Just Like Me has been providing Santas of color since 2013. Thousands of children have been touched by visits with Santa sharing their wish lists while being professionally photographed.
Santas Just Like Me was conceived from a desire to provide black, brown, and interracial families with representation during the Christmas season. But all families are welcomed. Our Santas are kind and have an authentic feel with natural beards. The kids and families enjoy the atmosphere facilitated by well trained and friendly staff, seasonal backdrops, and superior photography. Additionally, merchandise to help commemorate the visit is sold.
We have been featured in several magazines and newspapers. In 2017, Durham engaged Santas Just Like Me by inclusion of the first Santa of color in their Christmas Parade. In 2019, we were featured in a segment of Marketplace on National Public Radio. In support of our communities, Santas Just Like Me supports fundraisers, hospital visits, and non – profits to spread the love of Christ. We are available for parades, grand openings, business events, churches, organizations, schools, daycares and home visits.
Clients of Santas Just Like Me include: The Pope House Museum (Raleigh), The Harvey B Gantt Center (Charlotte), The Hayti Center (Durham), Jack & Jill (Cary, Charlotte & Fayetteville), QEI (Durham), EducateDancer (Greensboro), Steele Creek A.M.E. Zion Church (Charlotte) and many other organizations and businesses. Contact us today for a no-obligation quote.
Black Santa has been an increasingly popular presence at the Hayti Heritage Center. The smiling faces, wide eyed expressions, holiday outfits, and the gathering of families provide a wonderful experience that remind us all of how much fun it is to be young at heart during the Christmas season. We look forward to Black Santa at Hayti each year!
We have worked with Stafford Braxton and Santa Warren for three years. Every year we are blown away by the experience. Stafford makes the process so easy and with Santa Warren they create a magical atmosphere for families. We are all now part of families' holiday traditions and we are so grateful.
We've had the privilege of making an annual Black Santa visit since our son was born in 2014. Santa is kind, gentle, and patient with kids — and most importantly, visiting Black Santa creates a genuine experience and lasting memories that are captured by the professional crew each year. We've been very satisfied as parents and patrons. We look forward to returning each year. I can't speak highly enough about "Santas Just Like Me", and I'm so glad that I found a business that believes in representation, and promoting a sense of culture and community during the Christmas season. I recommend them to all our friends and family, and encourage anyone who hasn't yet to come out and see him this Holiday Season!